59/184/84
Director:
Lukáš Kokeš
Original title:
59/184/84
Country:
Czech Republic
Year of release:
2009
Runtime:
25 minutes
Colour:
Colour
Language:
Czech
Subtitles:
English
Writer:
Klára Tasovská, Lukáš Kokeš
Camera:
Lukáš Kokeš
Editing:
Josef Krajbich, Lukáš Kokeš
Sound:
Martin Klusák
Music:
Jiří Neumann
A film add of the forever unhappy man with a fixed idea that "something is about to happen", always waiting for the moment to start to live, upholding his plain loner's existence with a belief that the destiny will at last make his dream of an ideal woman true, based on the biological right of love.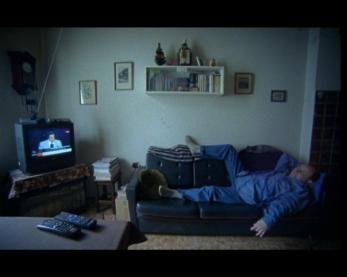 Reservation:
You can wath the film only in CDF in Jihlava. You need to be
signed in
to make a reservation in video library. If you don't have an account please
register
.