Czech Journal: Near Far East
Director:
Filip Remunda
Original title:
Český žurnál: Blízký daleký východ
Country:
Czech Republic
Year of release:
2015
Runtime:
70 minutes
Colour:
Colour
Language:
English, Czech, Russian, Ukrainian
Subtitles:
Czech
Producer:
Petr Kubica
Writer:
Filip Remunda
Camera:
Martin Tokár
Editing:
Marek Šulík
Sound:
Václav Flegl, Oleg Golovoškin, Michal Gábor
This film about the situation in presentday war-torn Ukraine originated over the course of a year as the director's travel journal. Ukrainian teacher Tania, who works in Prague as a cleaning lady, takes the fi lmmaker along to visit her family in Transcarpathia. The director also meets with his friends who are local journalists, and with Petr, a revolutionary who gives an atypical tour of the residence of Viktor Yanukovuch. Observational, mostly static shots, in which Remunda appears only occasionally as a witness or moderator, is accompanied by his off-screen commentary offering reflections on his own relationship with Ukraine and with the media in general.
DETAIL:
"Drug addicts have been eradicated as a social class. So there's none here." "And where are they?" "I'd say they've gone for treatment. They're sick people. They should be treated. There are all kinds of ways. They'll get a shovel and dig trenches."
PLAY ONLINE IN CZECH TELEVISION ARCHIVE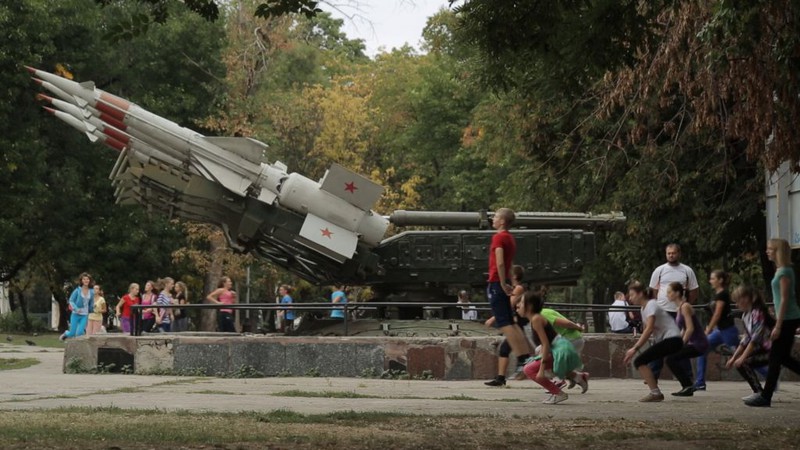 Reservation:
You can wath the film only in CDF in Jihlava. You need to be
signed in
to make a reservation in video library. If you don't have an account please
register
.