5-9
Director:
Ulf Lundin
Original title:
5-9
Country:
Sweden
Year of release:
2013
Runtime:
9 minutes
Colour:
Colour
Language:
No Dialogue
Subtitles:
No Subtitle
Producer:
Ulf Lundin
Writer:
Ulf Lundin
Camera:
Ulf Lundin
Editing:
Ulf Lundin
Sound:
Ulf Lundin
Observing an everydayness of evenings in an office building through a glass panelm, the filmmaker assembles small steps and movements and lingering into a picture of an imaginary space. Even though it looks like one long tracking shot, it was painstakingly filmed over a number of weeks and then edited into a mosaic in which events take place right after one another, when in reality they happened at significantly different times.
DETAIL:
Precise framing and editing enabled the artist to create invisible seams in the image, which points to the engulfing nature of work, in which immersing oneself into the flow enables exceptional productivity.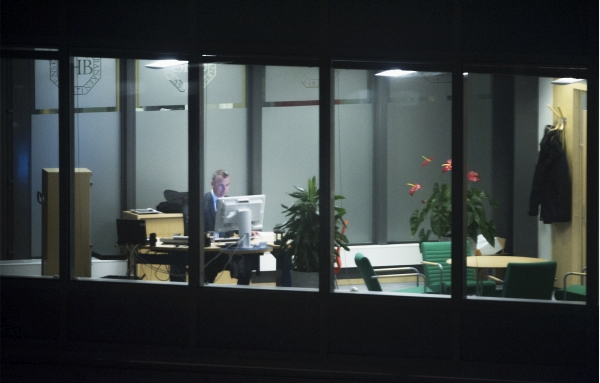 Reservation:
You can wath the film only in CDF in Jihlava. You need to be
signed in
to make a reservation in video library. If you don't have an account please
register
.