20 Cents
Director:
Tiago Tambelli
Original title:
20 Centavos
Country:
Brazil
Year of release:
2014
Runtime:
52 minutes
Colour:
Colour
Language:
Portuguese
Subtitles:
English
Producer:
Marcelo Krowczuk, Mauricio Monteiro Filho
Writer:
Tiago Tambelli, Carlos Maga, Eduardo Consonni, Rodrigo T. Marques
Camera:
Tiago Tambelli, Thaís Taverna, Ronaldo Franco, Mauricio Tibiriça, Marcelo Simões, Lucas Satti, Lucas Barreto, Léo Rudá, Kamikia Kisedje, Eduardo Rabin, Ioschep Eduardo, Miranda Emerson, Edgar Bueno, André Uba
Editing:
Eduardo Consonni, Rodrigo T. Marques
Music:
Macaco Bong, RZO, Meta Meta, Sabotagem
São Paulo, June 2013: The local government's decision to raise the price for a public transit ticket by 20 cents results in a wave of social unrest. The protests are an expression of a more general dissatisfaction among the working classes with their living conditions. However, the mass of protestors does not succeed in achieving a common vision: The carneval-like ethos is replaced by the atmosphere of guerilla struggle, and solidarity by violence. Over several days, this observational documentary places the viewer directly into the middle of the chaotic events. The cadence of kinetic footage of angry mobs, accompanied by tribal rhythms and heavy-metal riffs, is enough to give the viewer a sense of vertigo.
DETAIL:
"Brazil cannot continue being the country of impunity! Brazil cannot continue sending only poor to prison. It's time the politicians go to jail."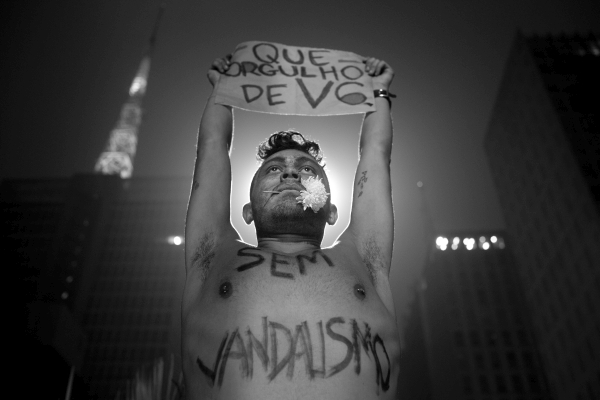 Reservation:
You can wath the film only in CDF in Jihlava. You need to be
signed in
to make a reservation in video library. If you don't have an account please
register
.