An Aviation Field
Director:
Joana Pimenta
Original title:
Um Campo de Aviação
Country:
United States, Portugal, Brazil
Year of release:
2016
Runtime:
14 minutes
Colour:
Colour
Language:
Portuguese
Subtitles:
English
Projection format:
HD
Producer:
Cozette Russell, Joao Matos, Andreia Queiroz
Writer:
Joana Pimenta
Camera:
Joana Pimenta
Editing:
Joana Pimenta
Sound:
Joana Pimenta
Observing a volcanic crater opens up a narrative filled with allusions and intimations that create an imaginary city along the lines of the metropolis of Brasilia inside the Cape Verdean volcano Pico de Fogo. A projection of an urban plan creates a world of possible stories, while shots of the urban model take us on a walk along the geometry of the city where even the cloud cover has been calculated. Portuguese filmmaker Joana Pimenta (1986) lives and works in the USA and Brazil. Her films and video installations work with techniques from visual anthropology. Previously at Jihlava, she showed her film debut The Figures Carved into the Knife by the Sap of the Banana Trees (2014), in which she used invented memories to construct a dream correspondence between the Madeira islands and the former Portuguese colony of Mozambique.

"There I found myself, time traveler, space archaeolo gist, trying to rebuild exoticism out of wrecks and remainders."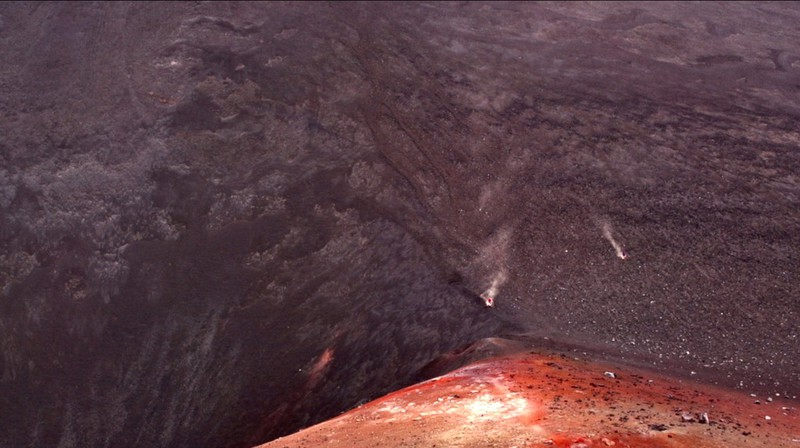 Reservation:
You can wath the film only in CDF in Jihlava. You need to be
signed in
to make a reservation in video library. If you don't have an account please
register
.