My Name is Hungry Buffalo
Director:
Pavel Jurda
Original title:
Jmenuji se Hladový Bizon
Country:
Czech Republic
Year of release:
2016
Runtime:
83 minutes
Colour:
Colour
Language:
Czech, English
Subtitles:
Czech, English
Projection format:
HD
Producer:
Radim Procházka
Writer:
Pavel Jurda
Camera:
Jiří Strnad
Editing:
Marek Šulík
Sound:
Jiří Kubík
Music:
David Smečka
Cast:
Blackhorse , Zuzana Pavlíčková, Jan Pavlíček
Jan calls himself Buffalo. He loves cowboys, he's blind, and may lose his hearing. Pavel Jurda's documentary follows his journey to America to visit the chief of the Navajo tribe, who wants to perform a ritual to help his hearing. The film is full of unpretentious humor thanks to Jan's charisma. In the USA, he's like the Don Quixote of the Wild West - a naive adventurer in a world that is much more ordinary than his imagination. This observational, but not standoffish, film is also an example of how the medium of film can relate to blind people by constantly showing the difference between what Jan perceives and what we actually see.

"The film is not about blindness, even if the main character is blind. It is about yearning for life. 'We are all handicapped in some way,' says a guy during a journey that starts with an accident and ends in triumph."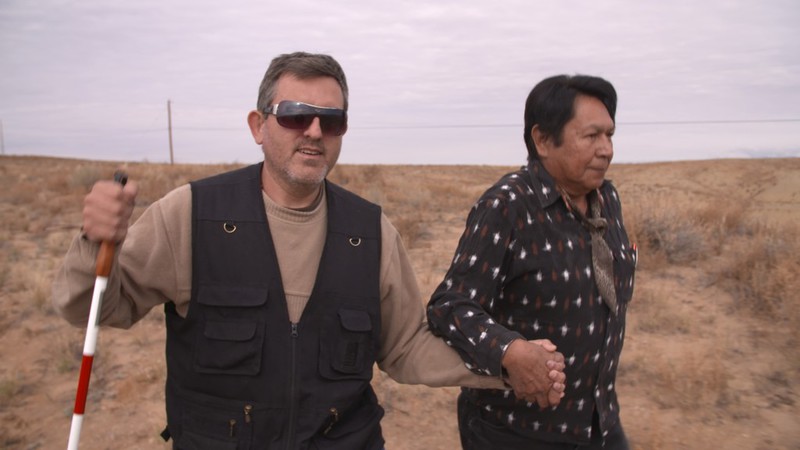 Reservation:
You can wath the film only in CDF in Jihlava. You need to be
signed in
to make a reservation in video library. If you don't have an account please
register
.