Smiling on the Phone
Director:
Aitziber Olaskoaga
Original title:
La sonrisa telefónica
Country:
United States, Spain, Netherlands
Year of release:
2016
Runtime:
39 minutes
Colour:
Colour
Language:
English, Catalan, Spanish
Subtitles:
English
Projection format:
HD
Producer:
Aitziber Olaskoaga
Camera:
Aitziber Olaskoaga
Editing:
Aitziber Olaskoaga
Sound:
Alex Reynolds
Music:
Coleman Zurkowski
Cast:
Jaime -, Laura -, Aitziber -, Ryan -, Aderito -, José Manuel -, Richard -, Alex -, Rebeca -
This observational documentary investigates the phenomenon of the call centre as a contemporary labor issue. "A", employed in a Nike customer service centre, decides to document her last weeks prior to her return to Spain. A casually placed camera captures her loneliness, her colleagues, or aimless shots of a room with strange voices and sounds. It reveals the discrepancy between the image, as presented by the media and as it is promoted among employees, and its perception, which we come to know from text messages sent between "A" and "K" that flash onto the screen. The feelings of alienation and demotivation conflict with the requirement to behave more positively and enthusiastically.
"
Smiling on the Phone
explores issues of contemporary labor and highlights the political relevance of documenting the workspace while exploring forms of response and resistance to those work-related images created by the powers."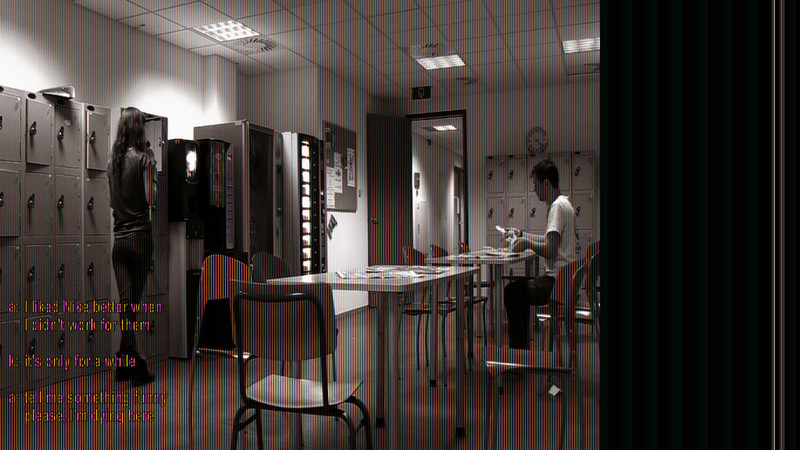 Reservation:
You can wath the film only in CDF in Jihlava. You need to be
signed in
to make a reservation in video library. If you don't have an account please
register
.