Czechs against Czechs
Director:
Tomáš Kratochvíl
Original title:
Češi proti Čechům
Country:
Czech Republic
Year of release:
2015
Runtime:
88 minutes
Colour:
Colour
Language:
Czech
Subtitles:
English
Producer:
Petr Kubica, Vít Klusák, Filip Remunda
Writer:
Tomáš Kratochvíl
Camera:
Tomáš Kratochvíl
Editing:
Tomáš Kratochvíl
Sound:
Tomáš Kratochvíl
This cinematic reportage with elements of a personal journal explores xenophobia in Czech society and anti-Nazi activists, but also the filmmaker's personal experience from living among in an socially excluded Romani neighborhood. Most of the footage was shot by the director using his own camera, and the immediacy of the images is further accentuated by voiceover observations and commentary. In just a few scenes, he adds music for dramatic affect. With his direct questions, he tries to unmask the racist arguments not only of anti-Roma protestors, but also of many ordinary citizens.
DETAIL:
"I'd toss a grenade in there." "In where?" "Among the gypsies. They reproduce like rats." "They should be killed?" "Yes. You know what Hitler should have done? Leave the Jews and shoot the gypsies. There's too many of them."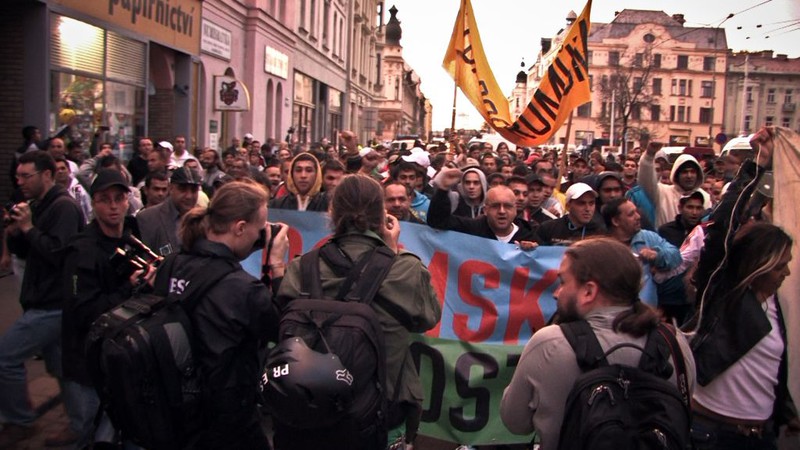 Reservation:
You can wath the film only in CDF in Jihlava. You need to be
signed in
to make a reservation in video library. If you don't have an account please
register
.