Lies
Director:
Jonas Odell
Original title:
Lögner
Country:
Sweden
Year of release:
2009
Runtime:
13 minutes
Colour:
Colour
Language:
Swedish
Subtitles:
English
Camera:
Per Helin
Editing:
Jonas Odell
Sound:
Anders Larsson
Music:
Martin Landquist
This animation sensitively uses all documentary tools to tell three stories in three different visual styles connecting good and evil with a lie allowing survival in the society, next to another person and finally with one´s self at the end of life.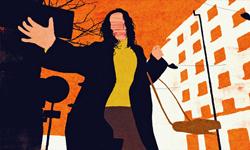 Reservation:
You can wath the film only in CDF in Jihlava. You need to be
signed in
to make a reservation in video library. If you don't have an account please
register
.