Imitations of life
Director:
Mike Hoolboom
Original title:
Imitations of life
Country:
Canada
Year of release:
2003
Runtime:
76 minutes
Colour:
Colour
Language:
English
Subtitles:
No Subtitle
Producer:
Mike Hoolboom
Writer:
Mike Hoolboom
Camera:
Mike Hoolboom
Editing:
Dennis Day, Robert Kennedy, Ross Turnbull, Mark Karbusicky
Sound:
Mike Hoolboom
Music:
Earle Peach
Even in this film Mike Hoolboom works with the history of film, with material that is not untangled from interpretations. Excerpts from films do not exist on their own; they are presented in layers with respect to evolutional continuity. The syntactic theme of the film is the awareness of the competing images (layering as disappearing).
A major Hollywood feature film and its great story in the beginning, and family footage, documents and scientific films as important margins. That's what makes Hoolboom's film an original commentary on the situation of the history of film (arguments), iconoclasm in the approach towards the history of film is then an attempt to resuscitate the dying images. The poetic is merged with the politic. The politic is an index of forgotten, but non-disappearing images from the films of empires - that eternal colonial weapon, images imported by ideology. The poetic is represented by emotions and moods. Mainly the art of editing becomes the soul of the imaginative gap between the light and darkness.
Critics point out that Hoolboom's film is in a field somewhere between the brave poetic of Derek Jarman and political bravery of Pier Paolo Pasolini. His film essay has one more foundation: psychoanalysis. Childhood experiences, unaffected first impressions comment on Freud's (and Lacan's) thoughts on the way people transform their own childhood memories, how they distort them by their aging memory, but they still remain authentic.
At the same time, Hoolboom tells us as the narrator that the moving image has disrupted the awareness of death. It is as if it accepted the role of death: if death was a protest against life and against the dream of eternity, then the film, by capturing the disappearing images, by fixating all that had to die first, makes death eternal. Film not as a preservation of life, but film as eternal death. We have to learn to die once more, to free ourselves from our own image. Both color and black & white film is used; the grainy 8-milimeter film destructs the studio pretence, subtitles and the ironic sound track reflect the possibilities of the film essay.
Imitations of life consist of ten chapters, each one of which has an individual intonation and cinematographic style. The chapters: In the Future, Jack, Last Thoughts, Portrait, Secret, In My Car, The Game, Scaling, Imitation of Life, and Rain.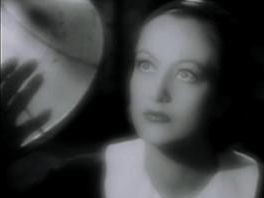 Reservation:
You can wath the film only in CDF in Jihlava. You need to be
signed in
to make a reservation in video library. If you don't have an account please
register
.